VideoBrains is moving!
We've called Secret Weapon in Stratford our home for about a year now, but we are moving on to a new location for the future. Our thanks go out to Loading and all the team who've hosted us for the last year and made everyone feel welcome.
But now VideoBrains is moving north! Well, a little bit further north. From May our new home is The Blacksmith & The Toffeemaker pub in Angel.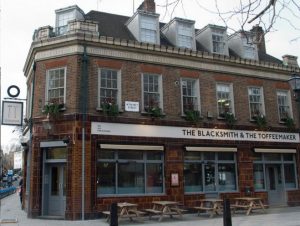 How to get there:
292-294 St John St, Clerkenwell, London EC1V 4PA
The nearest Tube station is Angel, turn left out of the station and it's about a 5 minute walk.
The 153 bus Stop for  Friend St / Sadler's Well Theatre is about a 2 minute walk from the venue.
The 4 & 56 busses stop at City University, and its a short walk down Spencer St to the venue.
There is also a Santander Cycles station just outside the pub.
The future
We are really excited for this new chapter in VB history, and we hope that you all like our new home as much as we do.
As you may have read over the past few days, we recently announced that VideoBrains as a monthly event will be coming to an end in September. It is very sad news but we've been around for three years, and the time feels right. VideoBrains supremo Jake Tucker wrote a blog post with more info that you can read here.
But we aren't going away forever! VideoBrains still exists, and if you want us to appear at your event, or run an event for you we can do that. For more info please get in contact with us at Jake@VideoBrains.co.uk
Thank you to everyone that has ever supported us. If you ever attended an event, bought a t-shirt or zine, funded us on patreon or just watched our videos on YouTube, we love you all and this wouldn't have been possible without the support that you've given us over the years.
 We hope that you'll join us for our final five events in our new home. We look forward to seeing you all.
http://www.videobrains.co.uk/wp-content/uploads/2016/10/videobrains.png
0
0
Oli Kill
http://www.videobrains.co.uk/wp-content/uploads/2016/10/videobrains.png
Oli Kill
2017-04-25 13:34:21
2017-04-26 18:24:38
VideoBrains is moving home!